We were once described as
"Strand Camping — A Campers Campsite"
by a fellow camper, and it's true that our personal experiences have helped us to develop the campsite as it is today.
What do you look for in a campsite?
Bathrooms / Showers
We provide clean, heated bathroom facilities for our campers including free hot showers located within large dedicated bathrooms. These dedicated bathrooms are large enough for family use and provide adequate space for campers with prams or pushchairs.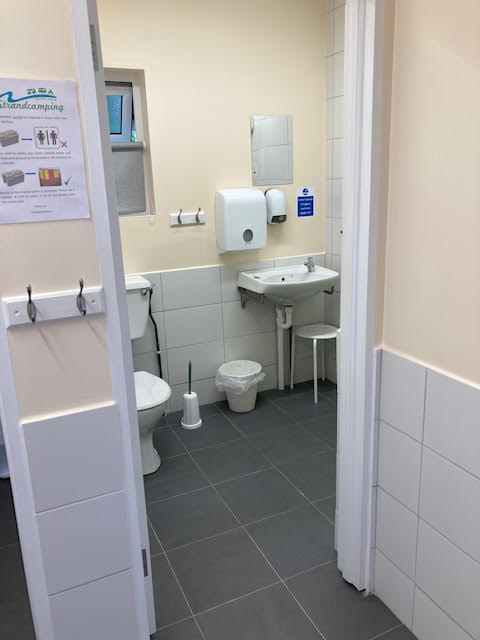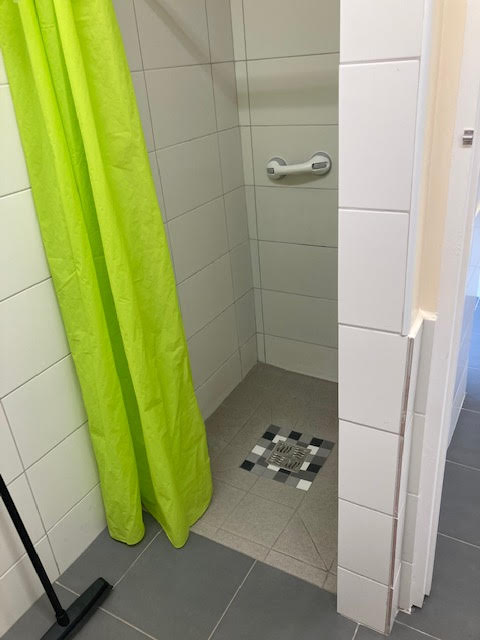 All bathroom 'basics' are provided free of charge including a wall mounted hair dryer, hand soap, paper towels and toilet roll. Hand sanitiser points near to all entry/exit doors are recommended for use prior to and after using the communal facilities.
Outdoor shower
To wash sandy feet (yours or doggo!) or wetsuits and welly boots we have an outdoor solar based shower with an additional cold water hose spray. It's very popular and multipurpose, free to use for everyone staying on the campsite.
Electricity
All of our pitches are fitted with 16 Amp electricity outlets (bring the right cable!) and this is available for use at an additional cost per day.
Free Wifi
In addition, free WiFi is available for your use whilst on the campsite and is available from all pitches. For those travelling 'light' free mobile phone or tablet device charging is available within our indoor washing up room.
Tent pitches Fridge freezer
If you're touring with a tent each of our tent pitches has access to a fridge-freezer during your stay, these are either located in the private barn in Pitch 12 or inside our washing up room for Pitches 7 and 9.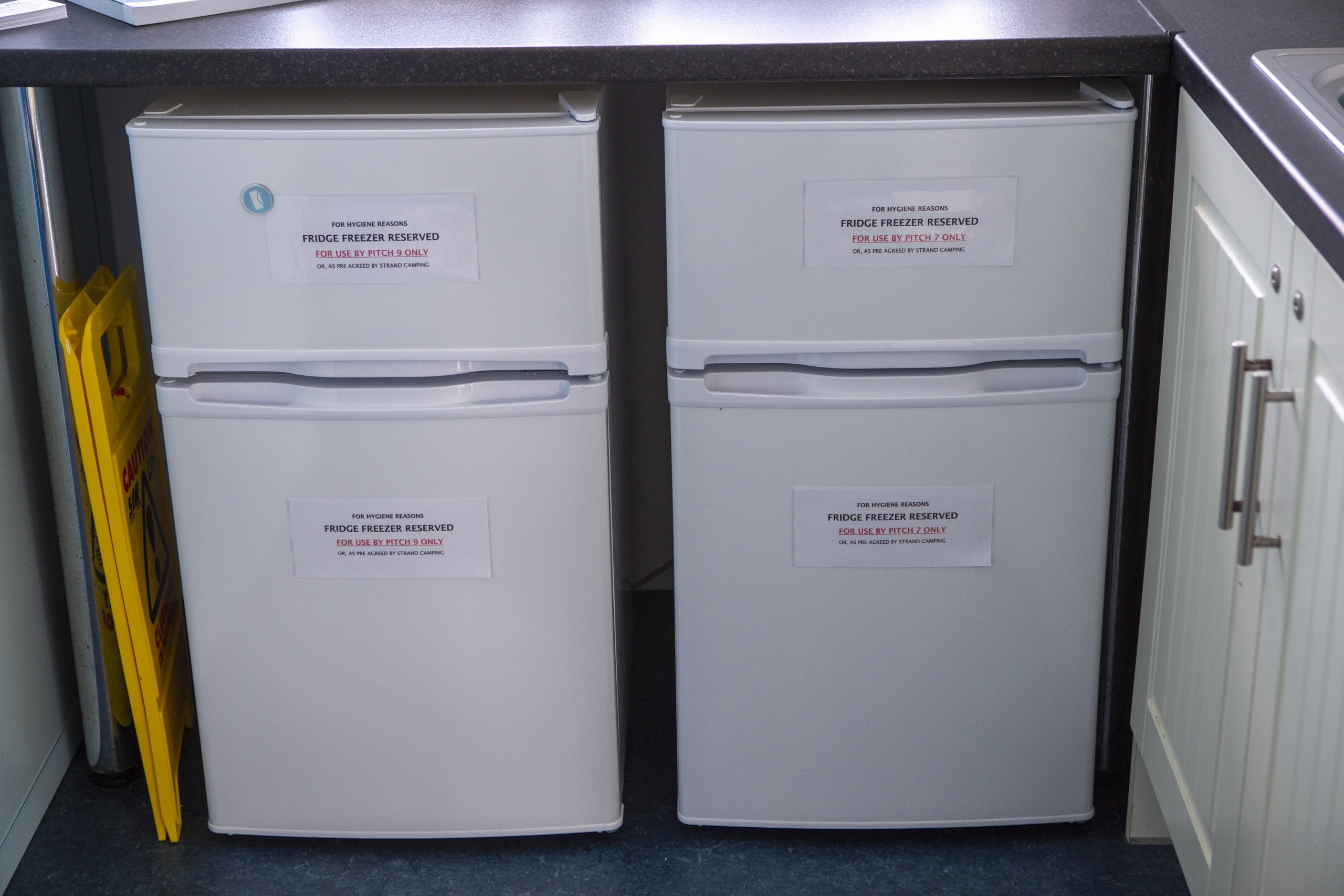 Washing Machines and Tumble Dryer's
If you are staying a little longer, or mid-way through a touring holiday, our pay-per-use Washing Machines and Tumble Dryer's (with free hand-washing and ironing facilities) are available to you in the onsite Beach Hut Laundry. A range of washing-lines are provided for use in any eventuality, from drip-drying your wetsuit or airing your ground sheet, to drying clothes naturally.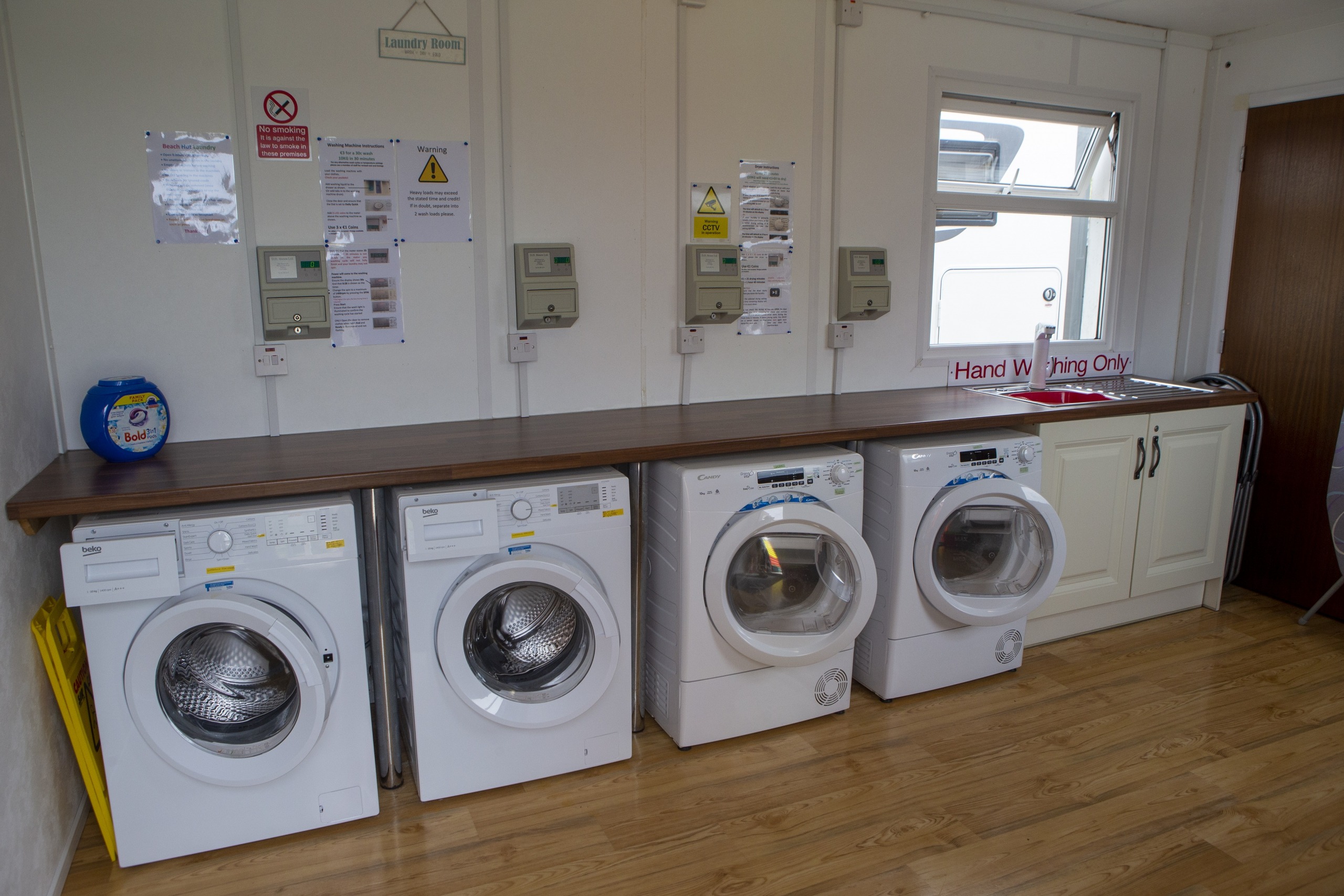 Washing-up facilities
Washing-up facilities are onsite if you need them, or perhaps you would like to relax first with a hot drink made using our campsite kettle or coffee machine. Or, perhaps you can combine both activities by making a drink whilst using our onsite dishwasher!!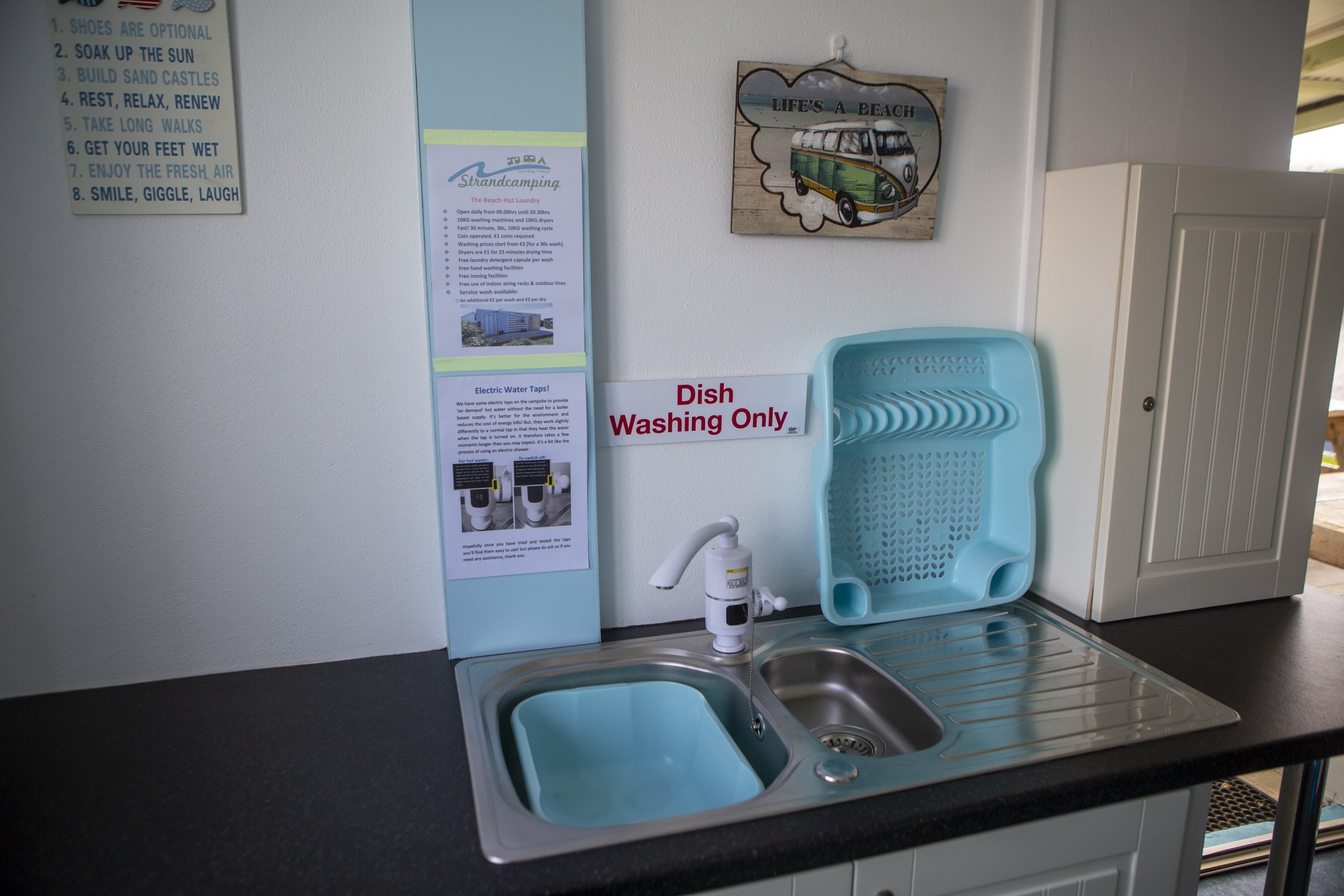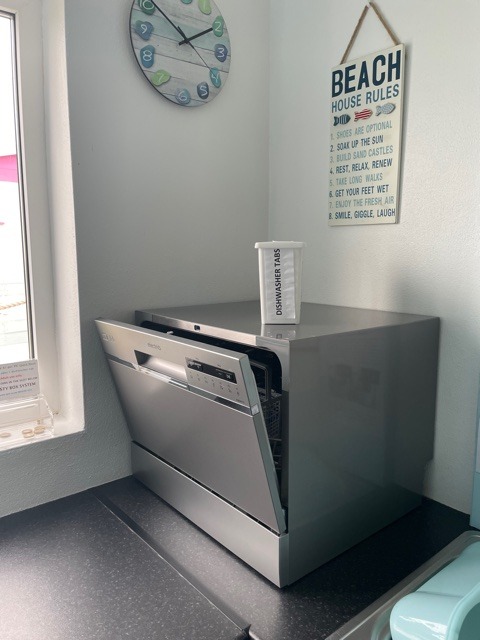 Eating alfresco
There's nothing better than cooking and eating alfresco! We have a small, covered area which is available for everyone to use which includes picnic benches and an outdoor sink for washing your BBQ afterwards! We also have a dedicated range of recycling/refuse bins for all items including hot ashes or disposable BBQs.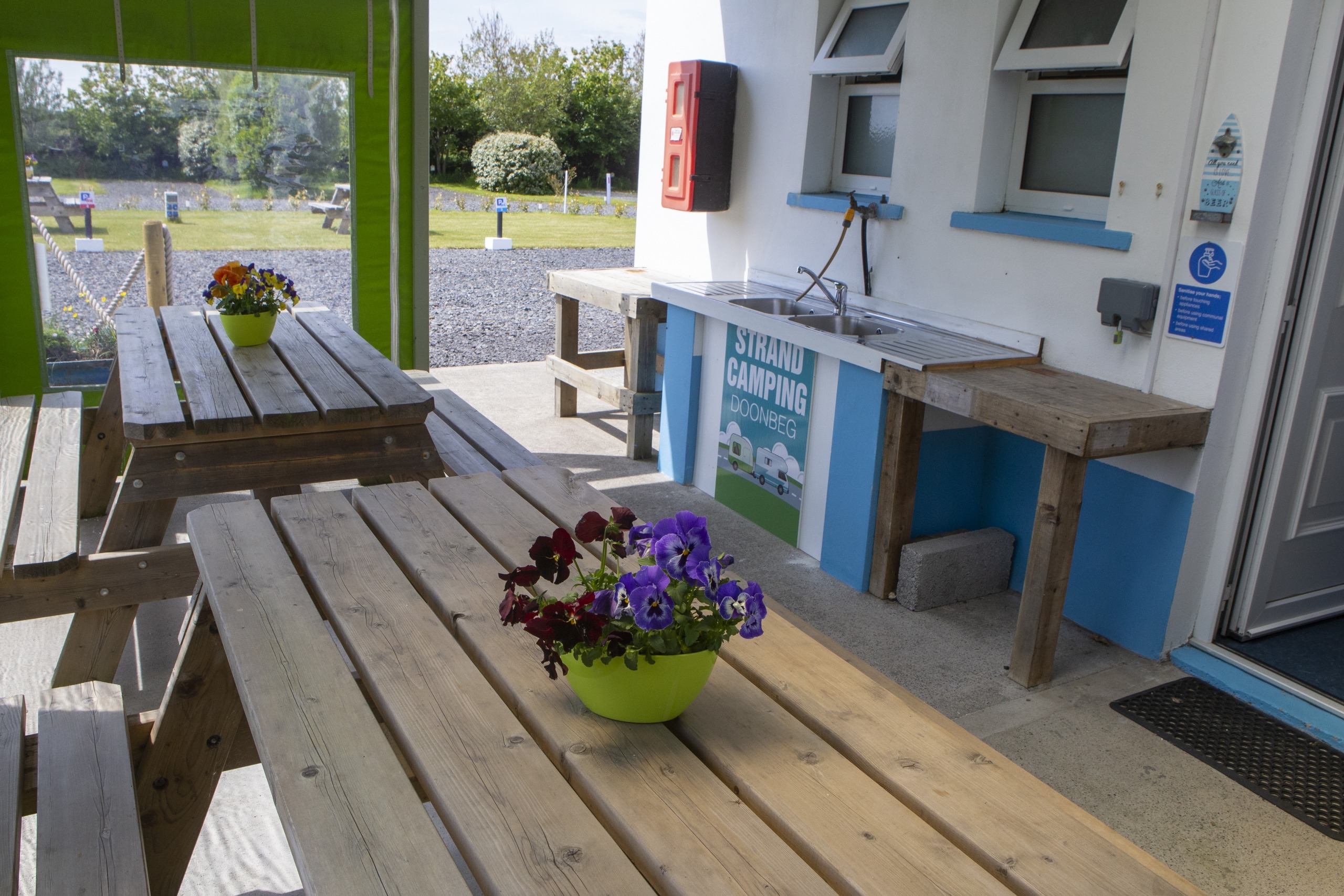 Dedicated service point
For all campervans, motorhomes and caravans staying with us we have a dedicated service point with a drive-over used water drain, fresh water fill-up points and a very brightly coloured! purpose built, toilet cassette emptying point just alongside.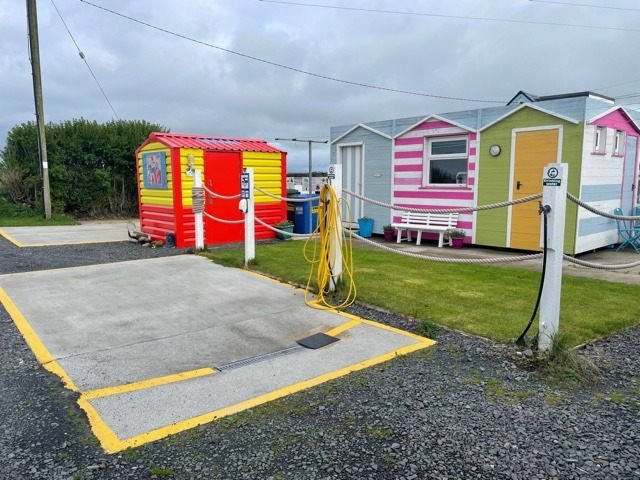 Dont forget your Pet
And, not to forget that your pet wants to enjoy their holiday too! so we have a dedicated Dog Walking recreational area at the rear of the campsite away from the road. This area also has seating and a small Dog Agility section so you can challenge your pet to running, jumping and weaving! Great exercise and fun for all.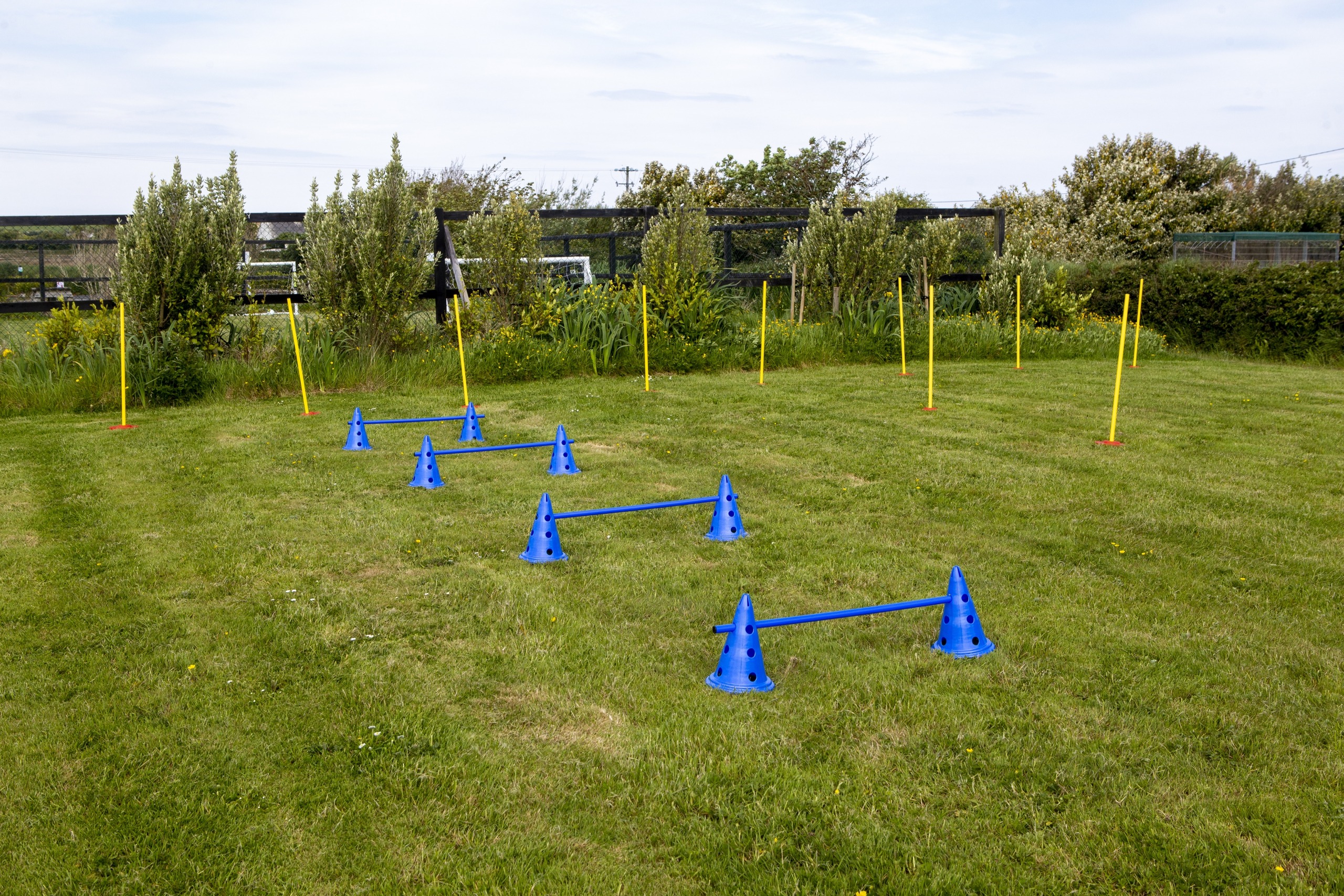 16th March – 3rd September 2023
Additional Adult - per night

€ 5

Child (3 yrs+) per night

€ 5

INFANT (0-2YRS) - PER NIGHT

€ 2

16 amp Electric - METERED

EXTRA
Prices include WiFi, hot showers, toilet & bathroom facilities, water and recycling disposal.
(Please note that a supplement applies to both the Super and Super+ tent pitches numbered #9 and #12. These have additional features and benefits. When checking availability click on 'View Details' in the pitch type column to see more information)
Pre payment and Pre booking terms
If you would like to book a pitch in advance of arrival full payment by card is required at the time of booking. A booking confirmation detailing terms and conditions is provided after the booking process is completed. This serves as your receipt. Please bring it with you for proof of booking.
Please note that all advance bookings are non refundable and non transferable to another person and, once made, booking dates are fixed and cannot be changed.